"Light that Light within you, and let it shine out this week!" 
On the morning of Tuesday 27 March 2018, the founder and Voluntary CEO of Chernobyl Children International, Adi Roche, addressed over 700 students and over 40 nationalities at Ireland's largest Model United Nations conference.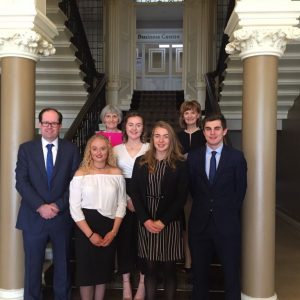 The St Andrew's Model United Nations programme runs nearly the duration of the whole school year and involves groups participating in conferences both at home and abroad.  The highlight of the year is this conference, known as SAIMUN, during which students come together and share their interest for international affairs, the art of diplomacy, and the principles of the United Nations along with students from all over the world.   Together, they engage in lively debate, searching for solutions to the complex conundrums of contemporary international politics; and in doing so, hone and perfect their skills of diplomacy, debate and public speaking.
Roche, who is no stranger to the workings of and working with the United Nations, spoke to inform and inspire the students, with anecdotes of her own struggles, perseverance in the face of adversity and victories, including the ratification of the United Nations Chernobyl Disaster Remembrance Day following her address to the UN General Assembly in April 2016.
Speaking to the international audience, Roche said;
"I truly believe that action is the antidote to despair!  You all know that feeling of despair, of helplessness…when you feel overwhelmed by the immensity of so many world problems….and now you know the antidote.  Get Active! Be Active!  You will feel much better.  Have courage and success will follow."
For more information on St Andrew's International Model United Nations, you can visit their website, Twitter and Instagram.