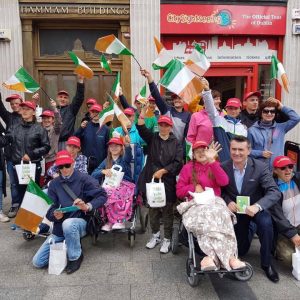 Radio and TV Broadcaster Martin King and City Sightseeing Dublin will welcome a group of 20 Chernobyl Children to Ireland for the summer to Dublin as part of a much needed Rest and Recuperation stay, organised by Adi Roche's Chernobyl Children International (CCI).
Twenty very special children and young adults from a Children's Institution in Belarus are staying in Dublin for the Summer for a recuperative visit to take them out of the Chernobyl affected regions for respite care in Ireland.
While in Dublin for the summer the children, who come from state run institutions and impoverished backgrounds, are being treated by City Sightseeing Dublin to the Malahide Castle and Coastal Tour.
The children are spending Tuesday, 4 July a hopefully sun-filled day visiting the Malahide Castle, the beautiful fishing village of Howth, one of Dublin's most popular destinations.
The summer Rest and Recuperation Programme gives the children and young adults a health-boosting reprieve from the toxic environment and high levels of radiation to which they are exposed. This is due to the ongoing recontamination of the environment by forest fires in the effected regions.
Voluntary CEO of Chernobyl Children International Adi Roche said today, "City Sightseeing Dublin have once again opened their hearts to our beloved Rest and Recuperation children and young adults. This is such a valuable opportunity to share a piece of Irish history and heritage with those who have adopted Ireland as their second home."
"It is so important that now, 31 years later, we continue to remember that the lasting effects of Chernobyl are forever. These children and young adults are testament to the fact that Chernobyl is and will remain to be, a lived reality. I am so grateful to Martin for taking time out of his busy schedule to spend time with these vulnerable children and young adults." added Adi Roche.