Today marks the 34th anniversary of the devastating Chernobyl Nuclear Disaster.
It is also the fourth United Nations Chernobyl Disaster Remembrance Day. This is a day which offers a unified, global message of hope with past, present and future generations who have been and will continue to be directly affected by Chernobyl.
This year, has shown more than ever before how – by uniting globally, we can create a difference as the world unites to battle the Coronavirus and flatten the curve. Much like the radiation emitted from the Chernobyl Disaster, the Covid 19 Pandemic is an invisible force that has the potential to be a deadly entity which can have profound effects on people's health. Now more than ever before, people can relate to the conditions in which many people in Ukraine and Belarus had to live in the aftermath of the nuclear fallout.
Chernobyl charity – Chernobyl Children International, who were one of the first responders to the Chernobyl Disaster, have today come out in support of frontline staff, who are currently working tirelessly on the frontline to protect and save so many lives during the global pandemic. CCI's Voluntary CEO Adi Roche said, "We stand in solidarity with those who bravely and heroically are answering this worldwide call to defend people's health and save lives from a harmful invisible force. People are doing what they can to help others at this precarious time. It is truly inspirational to see everyone pulling together – while remaining apart, to fight a fight unlike any we have had to fight before. On the anniversary of the Chernobyl Disaster, we'd like to bow our heads to healthcare workers everywhere."
Healthcare is a vital component of CCI's programmes which help to treat ill and disabled children in Belarus affected by Chernobyl. Many of these children have compromised immunity linked to the after effects of radiation. Now, not only do these children have the added component of the Coronavirus to fight on top of pre-existing conditions but wild fires have broken out in Chernobyl and Belarus too. This poses another risk from radioactive poisoning from radionuclides that have been re-distributed in to the atmosphere.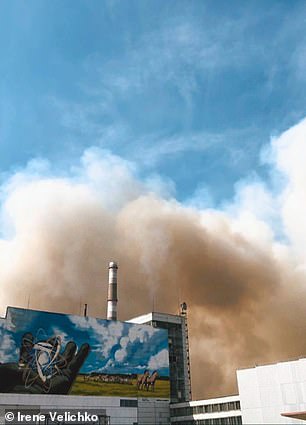 Families who have had to be evacuated from eight villages in the Chernobyl region of Ukraine because of the radioactive fires which have been burning there for the past two weeks, have appealed to Ireland for immediate humanitarian aid and medical aid, particularly for over 600 children who urgently need to be evacuated, many of whom have lost their homes and all their possessions.
Leading eminent Belarussian scientist Professor Yuri Bandazhevsky, Head of the Centre of Radiological Research at Ivankova, has launched a global appeal to help those affected.
When speaking about the fires, he said, "We do not have effective tools to help children suffering from forest fires in the Chernobyl Exclusion Zone. Those who are responsible for the fate of millions of people do not have an understanding of the dangers that arose. After the burning of trees, the radioactive elements contained in them remain on the surface of the soil and are carried over long distances with the wind. The population is exposed not only in the adjacent territories, but also in other regions and even countries."
As fires roared in Belarus, CCI received the news that they were dreading earlier this week when they were informed that an institution that they have been working in for 20 years – Vesnova, was also infiltrated by an invisible enemy – the Coronavirus. There are now cases of Covid 19 in the institution. Chernobyl Children International are working with local authorities to ensure that all the right steps are taken to protect the children at this time. The work of frontline staff is invaluable at this time as this deadly virus grips the world.
However, as global efforts continue, huge progress is being made to tackle the virus and as the world unites this UN Chernobyl Remembrance Day, together we hope for a brighter future.