"These children come from a place close to the world of plenty, but a millennium away from civilisation" – Adi Roche, founder and Voluntary CEO of Chernobyl Children International.
A very special group of 145 children from Belarus landed at Shannon Airport on Friday, 23 June as part of Adi Roche's Chernobyl Children International's (CCI) Rest and Recuperation Programme which takes children out of the Chernobyl affected regions for much needed respite care in Ireland with an extensive network of host families.
Tears of joy flowed in the arrivals hall of a bustling Shannon Airport as Irish families – from thirteen counties – were reunited with the Belarussian children and young adults whom they have opened their hearts and homes to for the past 3 decades, since the 1986 disaster. Since then 25,500 children from Belarus and Western Russia have come to Ireland on Rest and Recuperation programmes.
Paying credit to the volunteers who make the life-prolonging programme possible, Roche said;
"The success of this, our oldest programme, is due to the commitment, dedication and kindness of volunteer host families all over Ireland who fundraise year-round to be able to open their homes and hearts during the Summer. There is so much love in action…it really is a beautiful thing. These volunteers are the lifeblood of the organisation and without them, we would be lost."
Amongst this group, is 14-year-old Nikita Dudko who is coming to Ireland for the first time. Nikita, like so many other children living in Chernobyl's bleak shadow, has had to live with adverse health effects as a result of the deadly 1986 accident. Nikita has what is now known as a 'genetic marker' which he carries with him for generations to come. Abandoned at birth by his parents, Nikita lives in orphanage 'No. 7' in Minsk, Belarus. He will spend the next four weeks with the Hogan family of Fermoy, Co. Cork who will provide him with the nurturing care and support that he so desperately needs. The Hogan family have been volunteers with CCI for a number of years and are also hosting a young girl from 'No. 7' orphanage, named Maryna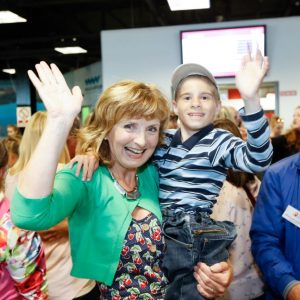 The Summer Rest and Recuperation Programme gives the children, who come from impoverished backgrounds and state-run institutions, a health-boosting reprieve from the toxic environment and high levels of radiation to which they are exposed. This is due to the absorption of radiation through the food chain and the ongoing recontamination of the environment by forest fire in the effected regions.
Recent studies have shed much needed light on the benefits of Rest and Recuperation to the children who live in some of the world's most radioactive contaminated lands in the Chernobyl affected regions.
Host families from 13 counties all over Ireland welcomed the children today for the start of their month-long, life-prolonging respite holiday, during which time radiation levels in the children drop by nearly 50 per cent and up to two years is added to their life expectancy.
Since 1991, over 25,500 children from Belarus and Western Russia have come to Ireland through Adi Roche's charity on this Rest and Recuperation programme.